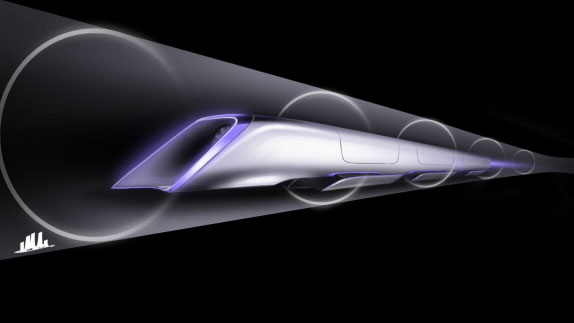 Elon Musk er ikke kjent for å være blyg på Twitter, og har en historikk som vitner om utstrakt bruk for å skape blest. Han har tvitret om alt fra nye Tesla-biler, via SpaceX-rakettutskytninger til hvorvidt hans flammekaster fra The Boring Company er tilgjengelig eller ei.
Nå derimot er temaet høyhastighetskollektivtransport: Hyperloop-prosjektet. Du kjenner nok til det — vakuum-røret, kjøretøyet som leviterer, hele greia minner om Familien Jetson.
Hittil har ikke Hyperloop holdt lovnadene Musk tidligere har forespeilet. Det var snakk om hastigheter på over 1100 kilometer i timen, mens rekorden foreløpig er satt av Virgin Hyperloop One, i desember 2017, og lyder 386 kilometer i timen. 
I kjølvannet av (uforholdsmessig kjappe) studenter  
Forandring kan nå være nært forestående, i alle fall om Musk klarer å holde det han lover. I en rekke tvitringer er påstanden at en «oppgradert SpaceX/Tesla Hyperloop-kjøretøy hastighetstest vil skje snart».
Teamet bak skal etter sigende prøve å nå halve lydhastigheten, for så å bremse ned og stoppe på omtrent 1,2 kilometer.
I en annen tvitring spøker Musk med at ideen er «galskap» og at hele greia
«kan ende opp som skrapmetall», men at det er «spennende uavhengig av utfall». Tvitringene finner du nedenfor: 
Det er interessant at Musk bruker navnene på sine andre (suksessrike) selskaper i markedsføringen av Hyperloop. Det har blitt satt spørsmålstegn ved hvor aktivt involvert Musk har vært i Hyperloop-prosjektet i etterkant av utgivelsen av det opprinnelige dokumentet som beskrev idéen. Utviklingen siden den gang har vært nærmest fritt frem for alle.
Lenge så det ut som Hyperloop lå an til bli et The Boring Company-prosjekt, men nå tyder ting på at det like gjerne kan bli SpaceX som får æren, hvilket kanskje ikke er så rart, i og med at sistnevnte selskap titt og ofte er i nyhetsbildet grunnet dets evne til å få ting til å gå fryktelig fort.
Ifølge Digital Trends er maskinen som skal brukes et såkalt «dytte-kjøretøy», tidligere brukt som drivkraft når studentkjøretøy uten motor skulle testes i fjorårets årlige Hyperloop-konkurranse.
Vi kommer med mer når vi har mer informasjon om testen.